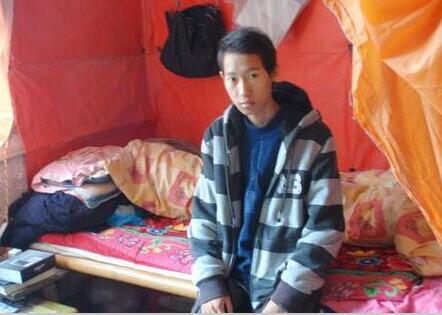 DENG Aifei used to be a seniorstudent of Humanities and Arts in Chongqing City Vocational College, Yongchuan,Chongqing, China. In July 2010, the only 21-year-old student DENG Aifei wasdiagnosed with Uremia in Chongqing Xinqiao Hospital and the only way to savehis life was kidney transplant. However, a kidney transplant surgery required costsof 200,000 yuan. DENG Aifei's family lived in poverty and he could only rely onthe hemodialysis treatment twice a week to maintain his life since he could notafford the huge surgery costs. He accepted the hemodialysis 10 times a month,500 yuan each time. In 2011, DENG Aifei had a chance to change the kidney, but hemissed it for lack of money.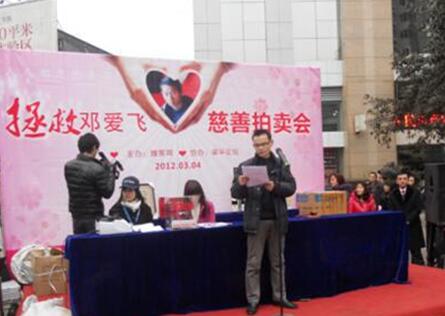 Because of poverty, DENG Aifei'sonly weekly hemodialysis would be interrupted and his families almost had nohope of his life. In December 2011, DENG Aifei's University teacher Ms. HUANGQiao met the founder of 51zeng.com, SAM ZHOU, by chance and talked about DENGAifei's illness. 51zeng.com immediately sent volunteers to DENG Aifei's (whohas suspended his schooling and stayed at home) home in Chongqing LiangpingCounty for investigation. After seeing the poverty caused by his illness andhis family is as poor as a church mouse, SAM ZHOU immediately declared that they will do their best to save DENG Aifei's life.
DENG Aifei's mother, nearly 50years old, would like to donate one kidney for her son's life. However, the poor family was difficult to bear the 200,000 yuan of surgery costs. 51zeng.comdecided to hold a charity auction to raise funds for DENG Aifei.
On the afternoon of March 4,2012, a large-scale charity auction was kicked off at Beicheng Paradise Walk,Jiangbei, Chongqing. All the auction items were donated by netizens, all thefunds raised would be donated to the young uremic patient DENG Aifei and ayoung life would therefore usher in the chance of rebirth. The charity auctionhosted by 51zeng.com to save DENG Aifei was held at these three places at thesame time: Beicheng Paradise Walk, Jiangbei, Chongqing, the location of DENGAifei's University, Yongchuan Yuxi Plaza, DENG Aifei's hometown, Liangping MinghaoPlaza.
The auction guests wereenthusiastically involved in the auction of all kinds of items. Most of theitems were sold out by guests in less than 2 hours. Many netizens sent donations one after another for on-site donation and more caring people gave ahelping hand.
As the China's first non-official charity auction organized by spontaneous people, the auction was hosted by the practisingauctioneer volunteer so that the process is open and transparent. Since therelease of a collecting call for auction items on 51zeng.com on February 26,2012, in just a week, the auction has gathered a collection of cars, computers,cameras, furniture, coins, Maotai, painting and calligraphy works, etc. and SAM ZHOU donated his beloved SUV.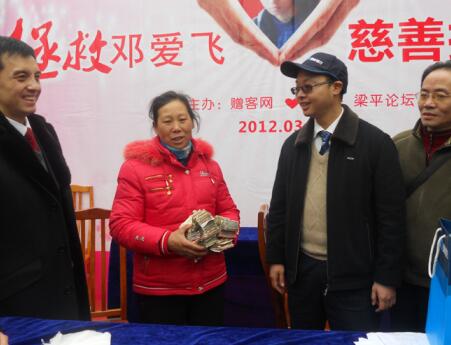 All the incomes from this charityauction have been handed to recipients on the spot. The recipient of money raised in Chongqing Jiangbei was DENG Aifei's father, the one in Liangping was DENG Aifei's mother and the one in Yongchuan was DENG Aifei's teacher. Plus theearly support of nearly 20,000 yuan from caring people, the required surgerycosts by DENG Aifei have been basically enough. Then, caring zenkers (namely donors) immediately arranged DENG Aifei and his mother for kidney transplant surgery.
OnJune 21, 2012, 6 volunteers of 51zeng.com including Youcaihua, Guojieshu andQingsong Shenghuo, went to Chongqing Blood Center to donate blood for DENGAifei's kidney transplant surgery.
OnJune 22, Chinese Zhejiang writer Ms. ZHANG Miaomiao, taking advantage of threedays of vacation, made a special trip to Chongqing to visit DENG Aifei, and madeboth money and blood donation. She came to Chongqing Blood Center to donate theblood component (platelets) as soon as she deplaned and strong blood donationreactions occurred when she donated; efforts of zenkers around the country willplay an important guiding role in the reconstruction of China's goodnesssociety!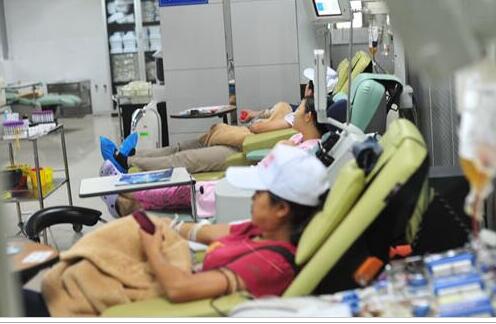 On July 9, 2012, the sun burnedChongqing's earth. On the afternoon, netizens of 51zeng.com went to ChongqingXinqiao Hospital to visit postoperative DENG Aifei and his mother again. Thesurgery was very successful. DENG Aifei and his mother are both in recovery.
Again 51zeng.com sent 8,000 yuandonated by netizens all in the hands of DENG Aifei's father. When netizens of51zeng.com came to the ICU where DENG Aifei stayed, they found that althoughDENG Aifei was skinny, he already had a high color, full of vitality in hiseyes. When asked about differences of feelings before and after surgery, DENGAifei opened his round eyes and said, his body was fatigue before surgery, andafter surgery, he felt the body were very strong and he wanted to play outside.Now, DENG Aifei's body is full of new force. Because of love, his youth willsoon be flying again!
Because of the postoperativeweakness, the doctor said, although DENG Aifei was in good recovery, he alsoneeded one and a half months before discharge, and his mother can go home aweek later.
Since then, the mother and herson can, in the gorgeous sun, smiling, greet the joy of life and meet the sunof rebirth.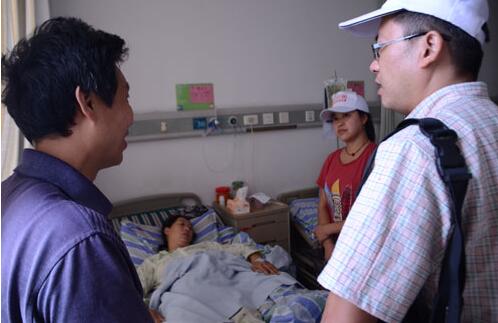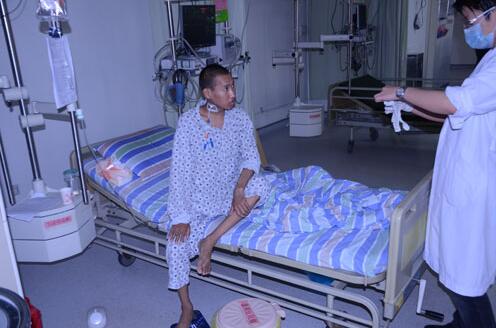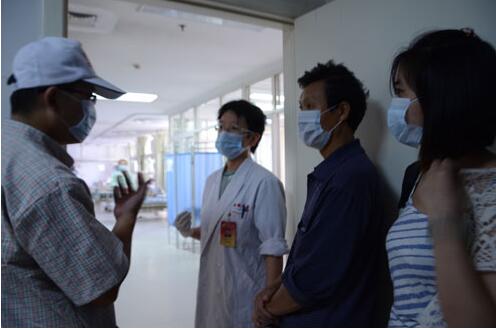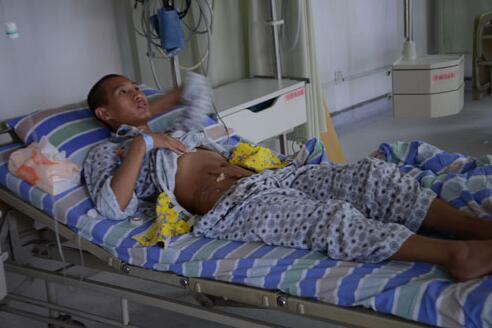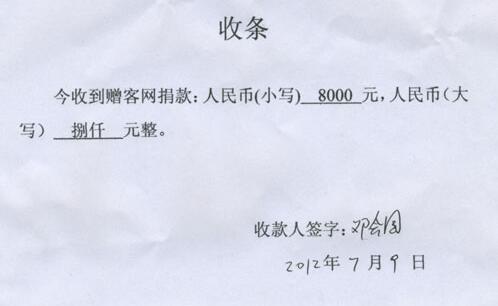 After more than a year ofrecovery, DENG Aifei accepted the artery and vein vessels separation surgery inarms in 2013. Recently, his body has been in good recoveryand various indexes have reached normal. However, DENG lives in mountains ofLiangping Ansheng Township with his poor family, and to cure his illness, thefamily has been heavily in debt. His mother has lost the ability to work aftertransplanting a kidney to him. The whole family can only rely on his father doingsome part-time jobs to maintain their lives. DENG and his mother also help hisfather feed goats in the mountains to support the family.
Taking into account the situationthat DENG Aifei still needs regular medication and go to Chongqing XinqiaoHospital for inspection, so he cannot do a normal work, and in the light of theidea "Give a man a fish and you feed him for a day. Teach a man to fish and youfeed him for a lifetime", 51zeng.com specifically employs DENG Aifei forpart-time customer services and he can take some online work with a computer athome every day. As thus, he can not only learn a skill, but also recuperate andrest at any time. Recently, DENG Aifei has returned to Liangping to start thework after he received a week of professional training in the office of51zeng.com.
Hope that through this job, DENGAifei can start a new career trip with self-reliance, establish confidence inthe work and life, experience himself and return the society. We also sincerelyhope DENG Aifei will go far on the path of life so that the flower of his lifeblooms with its most gorgeous color.
We hope the light of lifeinterwoven with love can illuminate DENG Aifei's forward life.